Beyond Good Chocolate Cake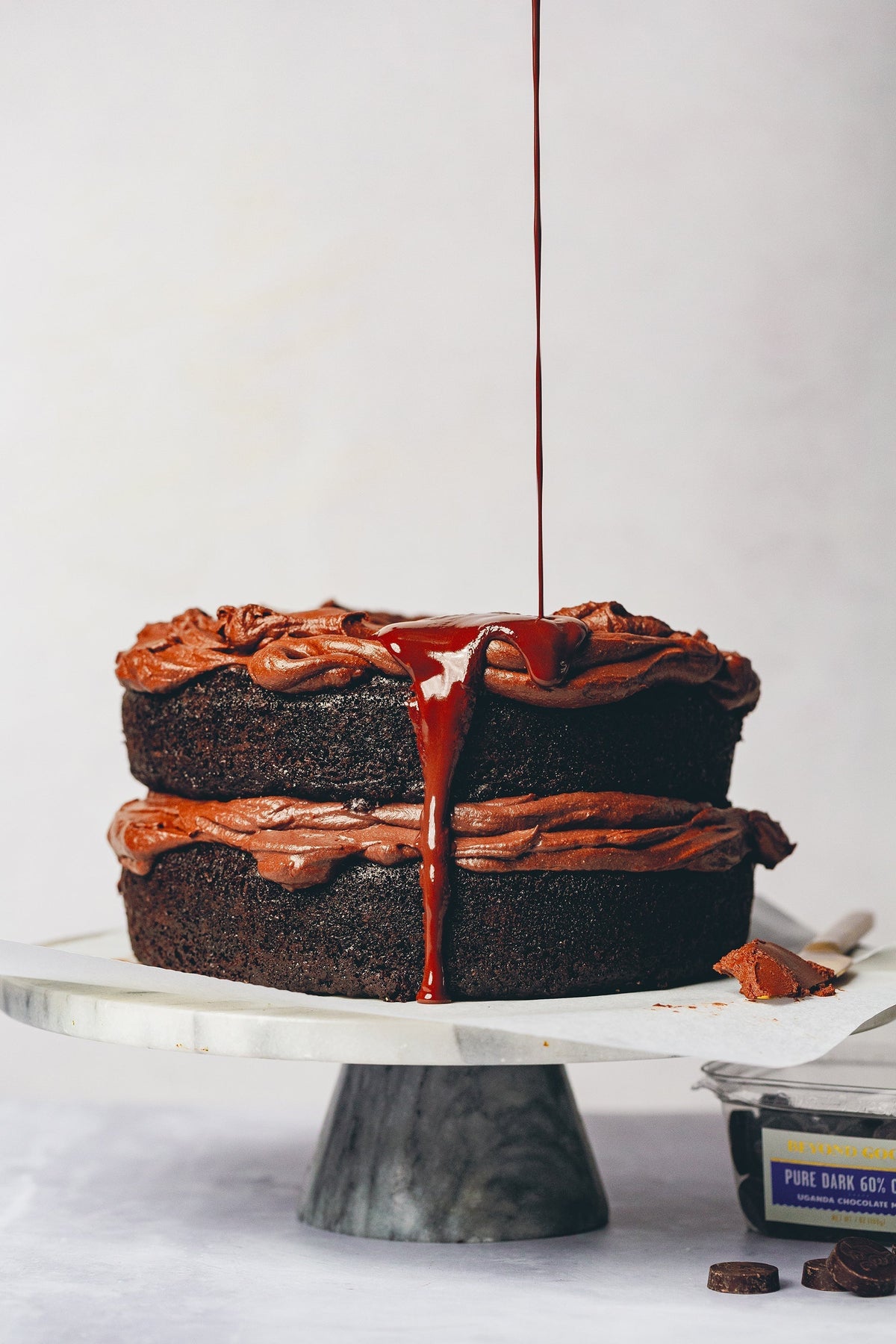 Ingredients
Chocolate Cake
2 cups (400g) soft brown sugar
2 cups (270g) all-purpose flour
¾ cup (80g) unsweetened cocoa powder
1 tbsp baking soda
1 tbsp baking powder
2 large eggs
1 cup buttermilk
1 tbsp Beyond Good Pure Madagascar Vanilla Extract
1 cup strong hot coffee
¼ cup smooth peanut butter
1 stick salted butter, melted
Chocolate Frosting
360g (12 oz) Beyond Good Pure Dark 60% Cocoa Melts
2 cups whipping cream
½ cup sour cream
½ tsp Beyond Good Pure Vanilla Extract
Pinch of fine sea salt
Method
Preheat the oven to 375°F .

Prepare two 10 inch springform or loose-bottomed cake tins by lining the bottom with parchment paper and greasing the sides.

Combine the sugar, flour, cocoa, baking soda.

Whisk the eggs, buttermilk and vanilla, and add to the dry ingredients.

Combine the coffee, peanut butter and melted butter, and add to the mixture. Mix well until just combined.

Divide the cake batter between the cake tins and bake for 30-40 minutes or until a skewer comes out clean when inserted into the centre of the cake.

Allow to cool for 10 minutes before inverting and allowing to cool completely.

To make the frosting, place the chocolate in a large bowl.

Heat the cream and sour cream in a saucepan until almost boiling then pour over the chocolate.

Allow to stand for 5 minutes then whisk until smooth. Whisk in the vanilla and salt. Allow the mixture to cool completely to room temperature, stirring occasionally.

Once cool it should be a thick consistency. Whisk it gently to a spreadable consistency - don't over-whisk.

Assemble the cake by layering the buttercream and sponge layers alternately.

Serve drizzled with extra melted dark chocolate, if desired.