Vanilla Cinnamon Loaf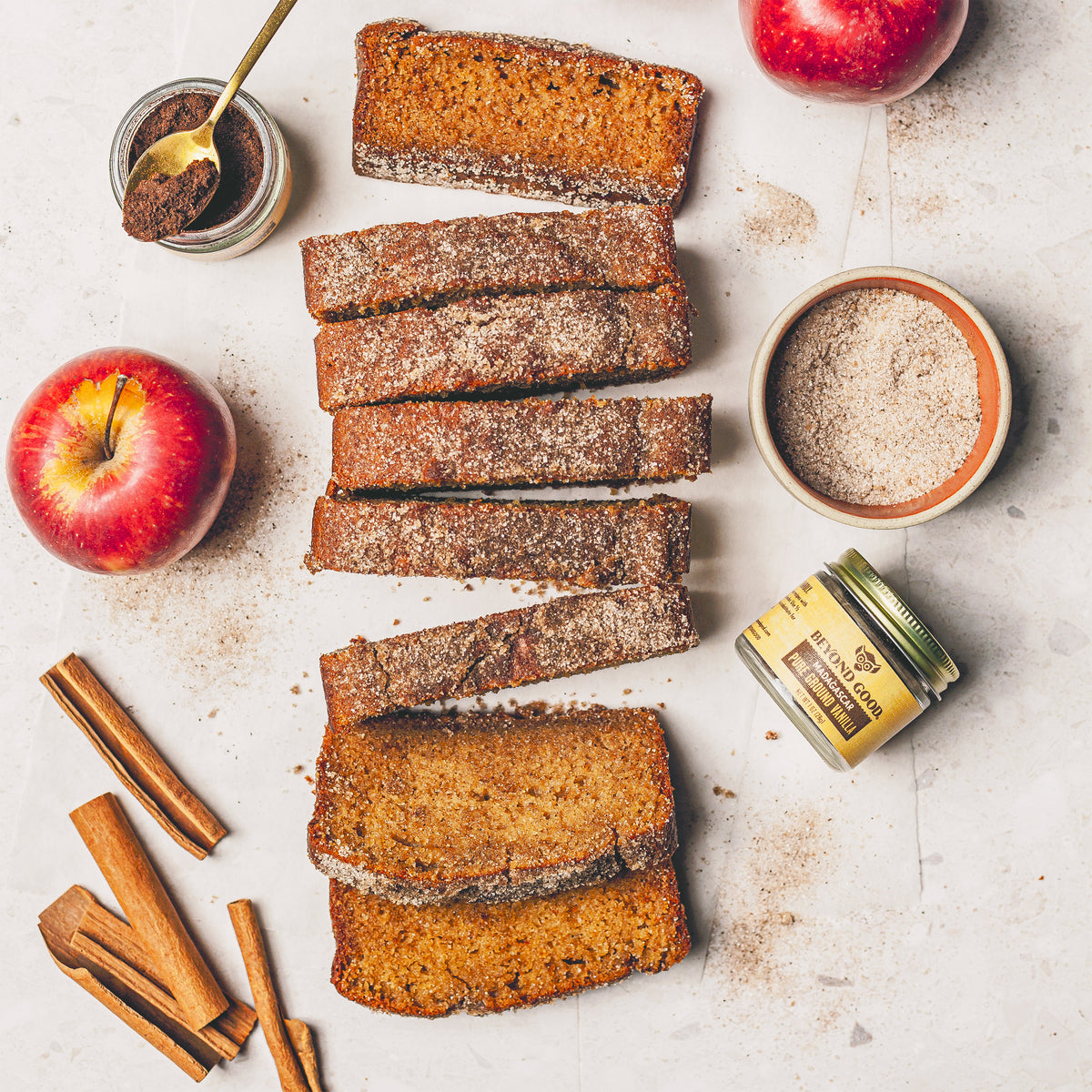 Ingredients
Cake
1 cup apple puree
½ cup (130g) sour cream
2 tsp Beyond Good Pure Ground Vanilla
1 stick (120g) salted butter, melted and cooled
2 large eggs
½ ccup (130g) soft brown cane sugar
1 cup (170g) all-purpose flour
2 tbsp cornstarch
1 ¼ tsp baking powder
½ tsp baking soda
½ tsp fine salt
½ tsp ground cinnamon
¼ tsp ground nutmeg
Cinnamon Sugar Topping
3 tbsp unsalted butter, melted
½ cup (50g) granulated cane sugar
½ tsp ground cinnamon
½ tsp Beyond Good Pure Ground Vanilla
Method
Preheat oven to 350°F.
Grease a 9"×5" loaf pan and line it with a sheet of parchment paper.
Combine apple puree, sour cream and half the vanilla and set aside.
Place the eggs and sugar in the bowl of a stand mixer fitted with a whisk attachment and mix until very light and fluffy.
With the machine running on slow, drizzle in the melted butter and mix to combine.
In a separate bowl, whisk the flour, remaining vanilla, cornstarch, baking powder, baking soda, salt and spices until combined.
With the mixer on low speed, add ¼ cup of the dry ingredients to the egg mixture, alternating with the sour cream mixture. Mix until just combined.
Pour the batter into your prepared pan and bake in the preheated oven for approx. 45-50 minutes, or until a toothpick inserted in the center comes out without any batter on it.
Let the pan cool on a wire rack for ten minutes, then remove the cake from the pan using the parchment paper. Let cool for 5 more minutes.
For the sugar coating, mix the sugar with the cinnamon and vanilla.
Brush the outside of the cake with melted butter and coat sprinkle with vanilla cinnamon sugar.
This cake is best served warm on the day it is made.