Shrimp Coconut and Vanilla Bean Curry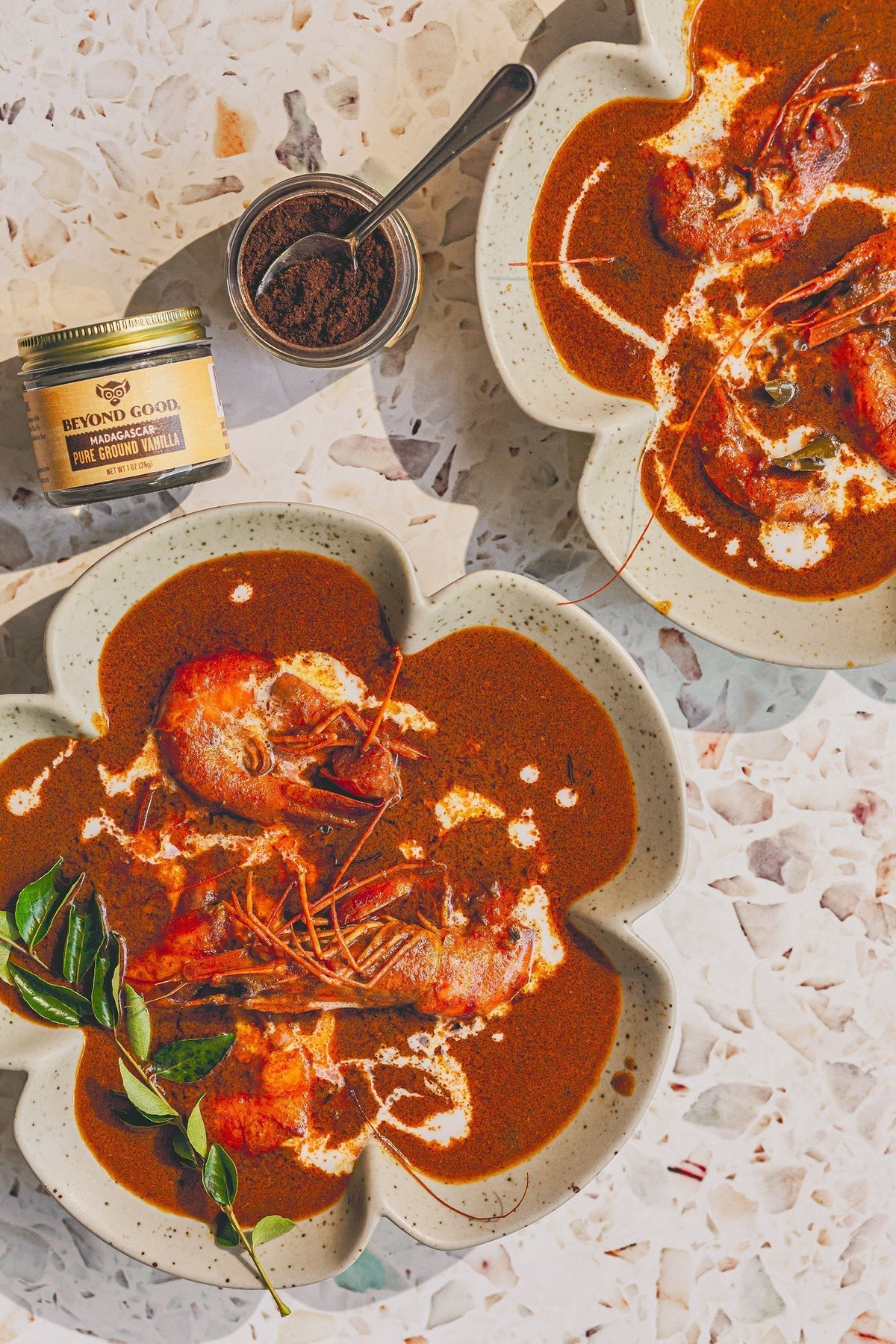 Ingredients
1/2 cup (1 stick) salted butter
2 garlic cloves, peeled and thinly sliced
2-inch piece of fresh ginger, finely chopped
2 medium green hot chilies, thinly sliced
10 fresh curry leaves
1 large cinnamon stick
2 tsp Beyond Good pure ground vanilla
2 cups fresh cilantro, roughly chopped
1 tsp cumin seeds
3 tbsp mild curry powder
1 (14 oz) can of crushed tomatoes
1 (14 oz) can of coconut milk
1 lb large shrimp, unpeeled and cleaned
1 lime, zested and juiced
1 tsp kosher salt
Substitute the shrimp with roasted root vegetables, cauliflower, or chickpeas for a vegetarian or vegan version.
Makes 4 Servings
Method:
To prepare the curry, place a large sauté pan fitted with a lid over medium heat, add the butter, and melt.

Add the sliced garlic, chopped ginger, sliced green chilies, curry leaves, cinnamon stick, pure ground vanilla, and chopped cilantro, and fry, stirring often, for 10-15 minutes.

Add the cumin seeds and curry powder, cook, stirring, for another two minutes, then add the canned tomatoes, coconut milk, lime zest and juice, and salt.

Add the shrimp, cover, and cook, stirring occasionally, for 10 minutes or until the shrimp turns opaque.

Serve warm with rice or flatbread.