Lenny the Lemur Chocolate Peanut Butter Cookie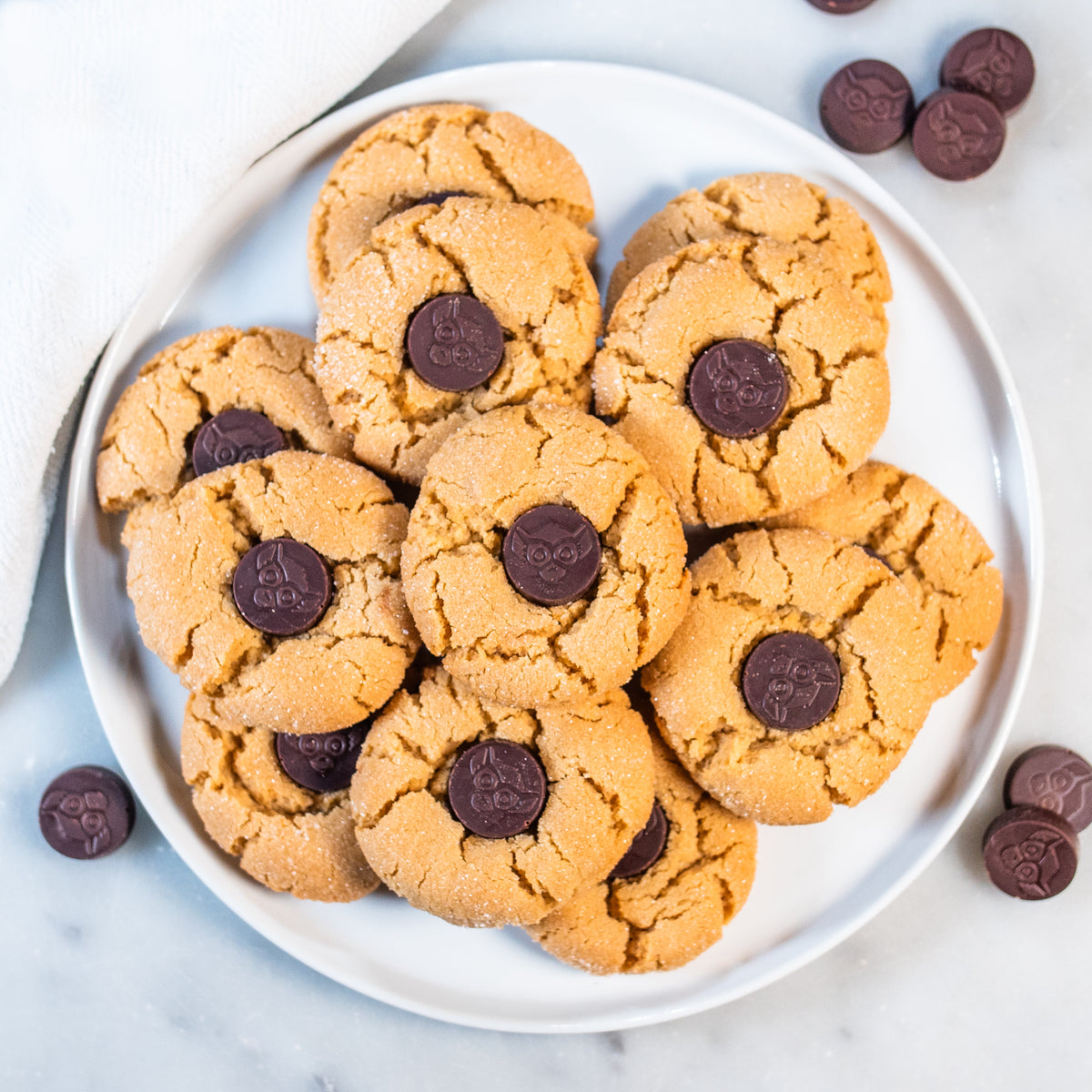 Ingredients
90 grams (6 tablespoons) unsalted butter, softened
100 grams (½ cup) granulated sugar
100 grams (½ cup) brown sugar
180 grams (1 cup) peanut butter
1 large egg
5 grams (1 teaspoon) Beyond Good Madagascar Pure Vanilla Extract
150 grams (1 ½ cups) all-purpose flour
4 grams (¾ teaspoon) baking soda
2 grams (½ teaspoon) baking powder
2 grams (¼ teaspoon) fine sea salt
24 pieces Beyond Good Pure Dark 70% chocolate Melts
Peanut butter and chocolate – a classic sweet and salty combination. In this recipe, you'll start by baking a peanut butter cookie, a simple yet delicious recipe that can be made by bakers of all skill levels. After baking, you'll top each cookie with a fruity, sweet Pure Dark 70% Dark Chocolate Melt.
Pre-heat an oven to 350°F.
Combine the butter, sugars, and peanut butter in the bowl of an electric stand mixer fitted with a paddle attachment and beat the mixture until light and fluffy. Slowly add the egg and vanilla extract, scraping bowl after each addition. Mixing by hand or using a hand electric mixer would also work just fine!
Add the flour, baking soda, baking powder, and salt, mixing on low speed just until combined.
Divide dough into 24 pieces (roughly 25 grams each), roll into balls and then roll into some of the additional sugar.
Arrange the cookies on parchment-lined baking sheets, evenly spaced and gently press each to flatten slightly.
Bake for about 10-12 minutes, or until beginning to brown at the edges, and remove from the oven. While still warm (5-10 minutes after they leave the oven), gently press a chocolate melt into each cookie and allow to cool completely.
Enjoy!