Brown Butter Chocolate Hazelnut Shortbread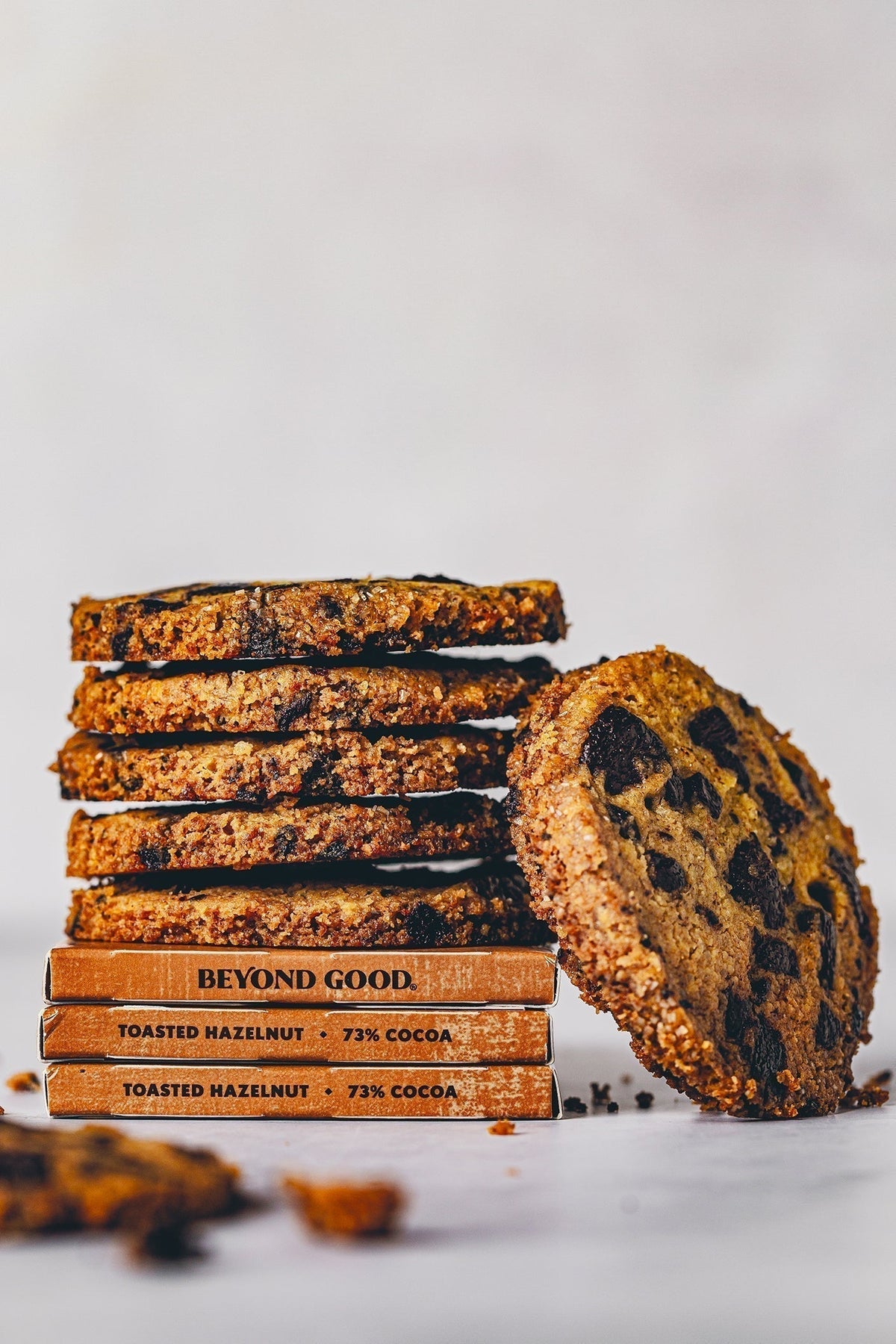 Ingredients
2 sticks (230g) salted butter, at room temperature
2 tsp Beyond Good Pure Madagascar Vanilla Extract
1/2 cup dark brown sugar, plus extra for rolling
1 3/4 cups (220g) all-purpose flour
2 Beyond Good Uganda Hazelnut Chocolate Bars
Method
In a small saucepan over medium heat, add 1 stick of butter.

Cook until the butter begins to brown and it smells nutty, approximately 3-4 minutes.

Remove from heat and transfer to a heatproof bowl.

Place the bowl in the freezer to chill for 10-15 minutes, but no longer.

In a large mixing bowl, beat together the remaining stick of butter, the cooled browned butter, vanilla and brown sugar until creamy. Add the flour and mix until fully combined.

Roughly chop the chocolate bars into chunks and add to the cookie dough. Mix in carefully.

Place the dough on a large piece of wax paper or plastic wrap.

Use your hands to shape it into a log approximately 12 inches long and 2 inches in diameter. Wrap the dough tightly in the wax paper and refrigerate for 2 hours or up to 5 days.

Preheat the oven to 350°F. Line a baking sheet with parchment paper.

Unwrap the dough and place it on a cutting board.

Roll the dough in coarse sugar to coat.

Using a sharp knife, cut the log into 1/2-inch slices.

Arrange the slices on the prepared baking sheet and bake the cookies for 13-15 minutes, until the edges are golden brown. Allow the cookies to cool on the baking sheet.