Chocolate and Caramel Thumbprint Cookies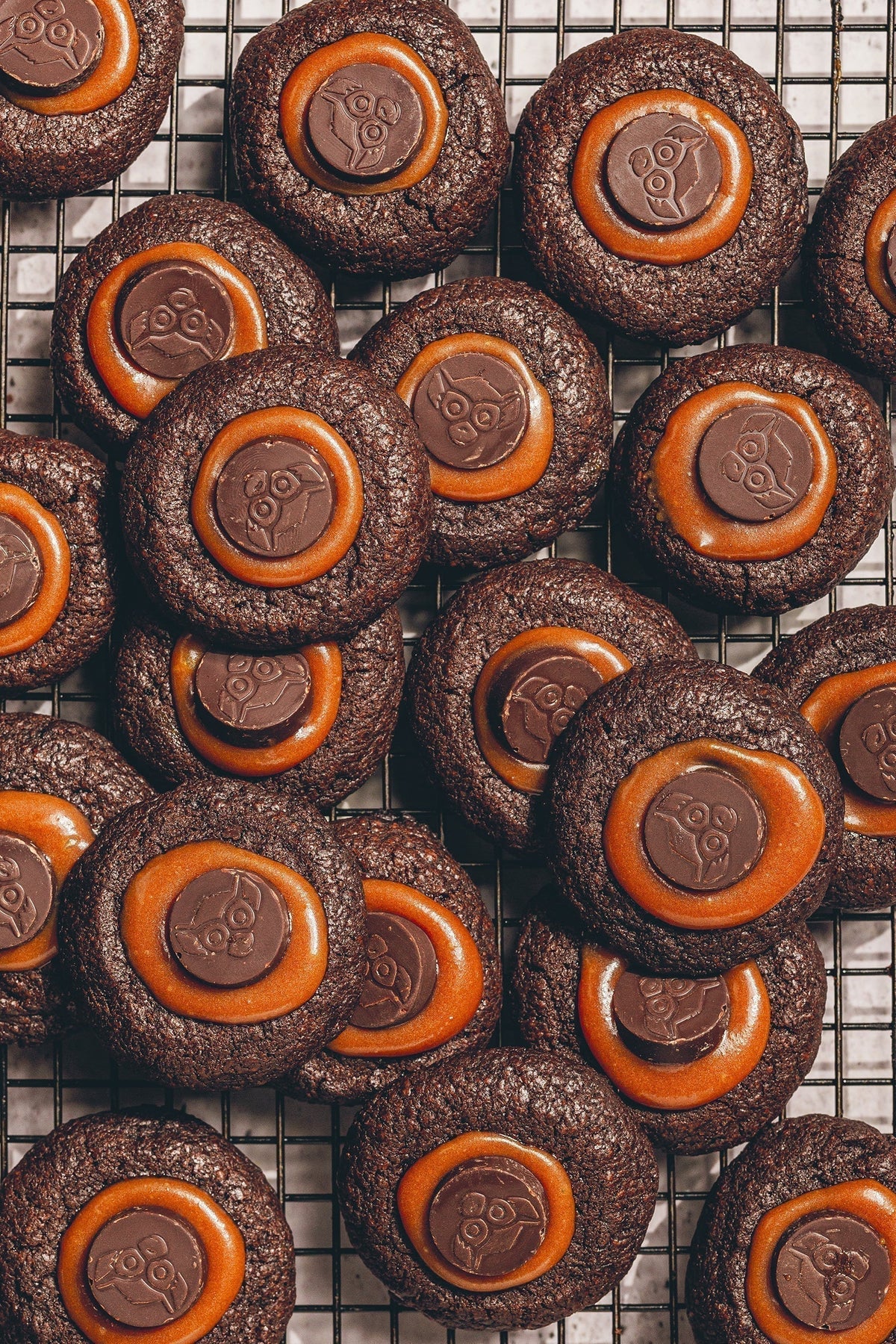 Ingredients
Thumbprint Cookies
125g (130ml) salted butter, softened
110g (125ml) superfine sugar
1 tsp pure Beyond Good Madagascar Vanilla Extract
1 large egg yolk
100g (80ml) Beyond Good 70% Dark Chocolate, melted and cooled
150g (250ml) all-purpose flour, sifted
30g (60ml) unsweetened cocoa powder
18 Beyond Good Pure Dark 70% Chocolate Melts
Salted Caramel
200g (250ml) granulated white sugar
90g (95ml) salted butter, cubed
120ml (125ml) heavy cream, room temperature
½ tsp fine salt
1 tsp Beyond Good Madagascar Vanilla Extract
Makes 18 Cookies
Method
Preheat the oven to 320°F (160°C) (Gas Mark 2).
In a mixer fitted with a paddle attachment, cream the softened butter and granulated sugar until light and creamy, approximately 8 minutes.
Add the vanilla extract, egg yolk, and cooled dark chocolate. Mix well. Then, add the sifted flour and cocoa powder to form a soft dough.
Wrap the dough in cling wrap and refrigerate for 30 minutes or until firm.
Roll tablespoons (20g) of the dough into balls and place them on two large baking trays lined with parchment paper. Use your thumb or the back of a measuring spoon to press an indent in the middle of each cookie.
Bake for 10 minutes, then allow the cookies to cool slightly.
In the meantime, in a pot over medium heat, heat the granulated sugar until fully melted. Swirl the pan if needed to melt any sugar crystals on the sides.
Once the sugar has completely melted and turns to an amber color, immediately stir in the cubed butter. Be careful of splatter. Once the butter and sugar are evenly combined, whisk in the heavy cream. Allow it to boil for 1 minute.
Remove the pot from the heat and stir in the salt and vanilla extract. Let the caramel cool and thicken.
Once the cookies are out of the oven and still warm, use the back of a teaspoon measuring spoon to redefine the thumbprint hollow.
Drop or pipe spoonfuls of the caramel into the middle of the cookies and top each one with a chocolate melt. Store in an airtight container for up to 1 week.